Slip-On Flange Dimensions Chart, Check Dimensions Of Raised Face Slip On Flange
Slip-on flanges are a form of flat welding flange. Flat welding is only used to weld the outer layer, not the inner layer. In general, a flat welding flange, such as an ASME B16.5 Class 600 Slip On Flange, may be utilized in both medium and low-pressure pipelines.  Girish Metal India is a leading Slip-on flange Manufacturer and Supplier in India. The nominal pressure of these pipes with Tapped Slip On Flange is less than 2.5 MPa. Fillet welding is done after the Slip-On Flange with Raised Face Pn16 is put over the pipe. API 6A SORF Flanges are straightforward to use in fabricated applications.
The Slip-On Flange is connected to the pipe by two welds, one on the backside and the other on the inside. The internal weld of the flange to the pipe is recessed by at least the thickness of the wall plus 3 millimeters (3/16") of an inch. This is to keep the gasket's face and seating area safe. Although a Slip On Flange is initially less expensive than a Weld Neck Flange, there are two welds on the rear side and one on the inside of the flange, as well as the additional inspection of the second weld, tripling the weld and inspection costs. Because fittings are designed for butt weld connections, the Slip-On Flange is meant to be welded to the pipe before being fitted.
Slip-On Flange Dimensions in Inches, ASME B16.5 Slip-On Class 150, ASME B16.5 Slip-On Class 300
ASME B16.5 Slip-On Class 150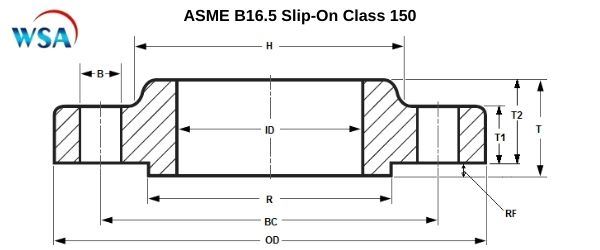 FLANGE
NPS
Inside
Diameter
Outside
Diameter
Bolt Circle
(BC)
Raised Face
(R)
Raised Face
(RF)
H
Raised Face
Thickness (T)
T1
Flat Face
Thickness (T2)
Bolt Hole
(B)
No. of
Bolt Holes
1/2″
0.88″
3.50″
2.38″
1.38″
.063″
1.19″
.62″
.38″
.56″
.62″
4
3/4″
1.09″
3.88″
2.75″
1.69″
.063″
1.50″
.62″
.44″
.56″
.62″
4
1″
1.36″
4.25″
3.12″
2.00″
.063″
1.94″
.69″
.50″
.63″
.62″
4
1-1/4″
1.70″
4.62″
3.50″
2.50″
.063″
2.31″
.81″
.56″
.75″
.62″
4
1-1/2″
1.97″
5.00″
3.88″
2.88″
.063″
2.56″
.88″
.62″
.82″
.62″
4
2″
2.44″
6.00″
4.75″
3.62″
.063″
3.06″
1.00″
.69″
.94″
.75″
4
2-1/2″
2.94″
7.00″
5.50″
4.12″
.063″
3.56″
1.12″
.82″
1.06″
.75″
4
3″
3.57″
7.50″
6.00″
5.00″
.063″
4.25″
1.19″
.88″
1.13″
.75″
4
3-1/2″
4.07″
8.50″
7.00″
5.50″
.063″
4.81″
1.25″
.88″
1.19″
.75″
8
4″
4.57″
9.00″
7.50″
6.19″
.063″
5.31″
1.31″
.88″
1.25″
.75″
8
5″
5.66″
10.00″
8.50″
7.31″
.063″
6.44″
1.44″
.88″
1.38″
.88″
8
6″
6.72″
11.00″
9.50″
8.50″
.063″
7.56″
1.56″
.94″
1.50″
.88″
8
8″
8.72″
13.50″
11.75″
10.62″
.063″
9.69″
1.75″
1.06″
1.69″
.88″
8
10″
10.88″
16.00″
14.25″
12.75″
.063″
12.00″
1.94″
1.13″
1.88″
1.00″
12
12″
12.88″
19.00″
17.00″
15.00″
.063″
14.38″
2.19″
1.19″
2.13″
1.00″
12
14″
14.14″
21.00″
18.75″
16.25″
.063″
15.75″
2.25″
1.32″
2.19″
1.12″
12
16″
16.16″
23.50″
21.25″
18.50″
.063″
18.00″
2.50″
1.38″
2.44″
1.12″
16
18″
18.18″
25.00″
22.75″
21.00″
.063″
19.88″
2.69″
1.50″
2.63″
1.25″
16
20″
20.20″
27.50″
25.00″
23.00″
.063″
22.00″
2.88″
1.63″
2.83″
1.25″
20
22″
22.22″
29.50″
27.25″
25.25″
.063″
24.25″
3.13″
1.75″
3.07″
1.38″
20
24″
24.25″
32.00″
29.50″
27.25″
.063″
26.12″
3.25″
1.82″
3.19″
1.38″
20
ASME B16.5 Slip-On Class 300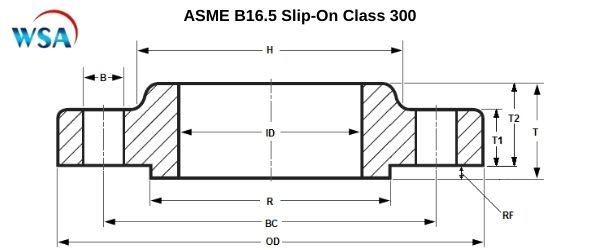 FLANGE
NPS
Inside
Diameter
Outside
Diameter
Bolt Circle
(BC)
Raised Face
(R)
Raised Face
(RF)
H
Raised Face
Thickness (T)
T1
Flat Face
Thickness (T2)
Bolt Hole
(B)
No. of
Bolt Holes
1/2″
0.88″
3.75″
2.62″
1.38″
.063″
1.50″
0.88″
0.50″
0.82″
0.62″
4
3/4″
1.09″
4.62″
3.25″
1.69″
.063″
1.88″
1.00″
.056″
0.94″
0.75″
4
1″
1.36″
4.88″
3.50″
2.00″
.063″
2.12″
1.06″
0.63″
1.00″
0.75″
4
1-1/4″
1.70″
5.25″
3.88″
2.50″
.063″
2.50″
1.06″
0.69″
1.00″
0.75″
4
1-1/2″
1.95″
6.12″
4.50″
2.88″
.063″
2.75″
1.19″
0.75″
1.13″
0.88″
4
2″
2.44″
6.50″
5.00″
3.62″
.063″
3.31″
1.31″
0.82″
1.25″
0.75″
8
2-1/2″
2.94″
7.50″
5.88″
4.12″
.063″
3.94″
1.50″
0.94″
1.44″
0.88″
8
3″
3.57″
8.25″
6.62″
5.00″
.063″
4.62″
1.69″
1.06″
1.63″
0.88″
8
3-1/2″
4.07″
9.00″
7.25″
5.50″
.063″
5.25″
1.75″
1.13″
1.69″
0.88″
8
4″
4.57″
10.00″
7.88″
6.19″
.063″
5.75″
1.88″
1.19″
1.82″
0.88″
8
5″
5.66″
11.00″
9.25″
7.31″
.063″
7.00″
2.00″
1.32″
1.94″
0.88″
8
Advantages of Slip On Flange
Lower installation costs
Easier to align with other parts during installation
Better leaking proof
​Inner and outer welding on the flange
Takes less time to cut accurately for the pipelines
As pipe slides on the flange, it compatible with the lower hub on the slip-on flange
ASTM | Inconel | Monel | Alloy Grades of Flanges
You might also like